Maximum Cooling
LG portable air conditioners provide exceptional cooling power that will keep you and your family cool, comfortable, and in control.
Match Room Size to BTUs/hr
Picking the right home air conditioner is very easy with the right information. Before buying an air conditioner, find out how many BTUs you need.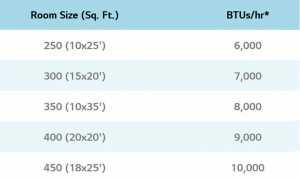 Quiet Operation
LG portable air conditioners operate at sound levels as low as 51dB (when in low mode) eliminating unnecessary noise for smooth operation that you'll barely notice.
3-in-1 Operation
The cool mode is ideal for powerful cooling and dehumidifying in hot days. In fan mode, the fan circulates air while dry mode is ideal for rainy and damp days.
Maximum Usability
Operate with LED display and simple selection control panel, up/down temperature adjustments, and fan speed selection, using the full-featured remote without leaving your bed, workspace, or couch.